«

Back to Search Results
2010 CNB 77
€1,600,000
France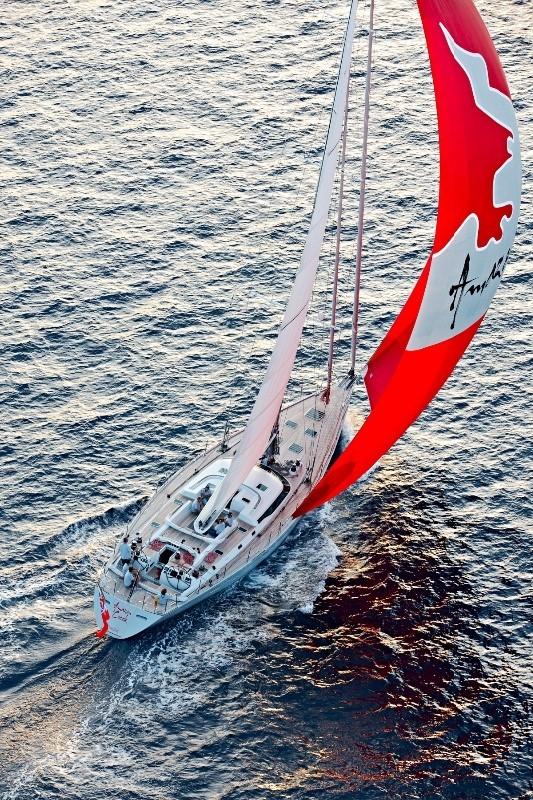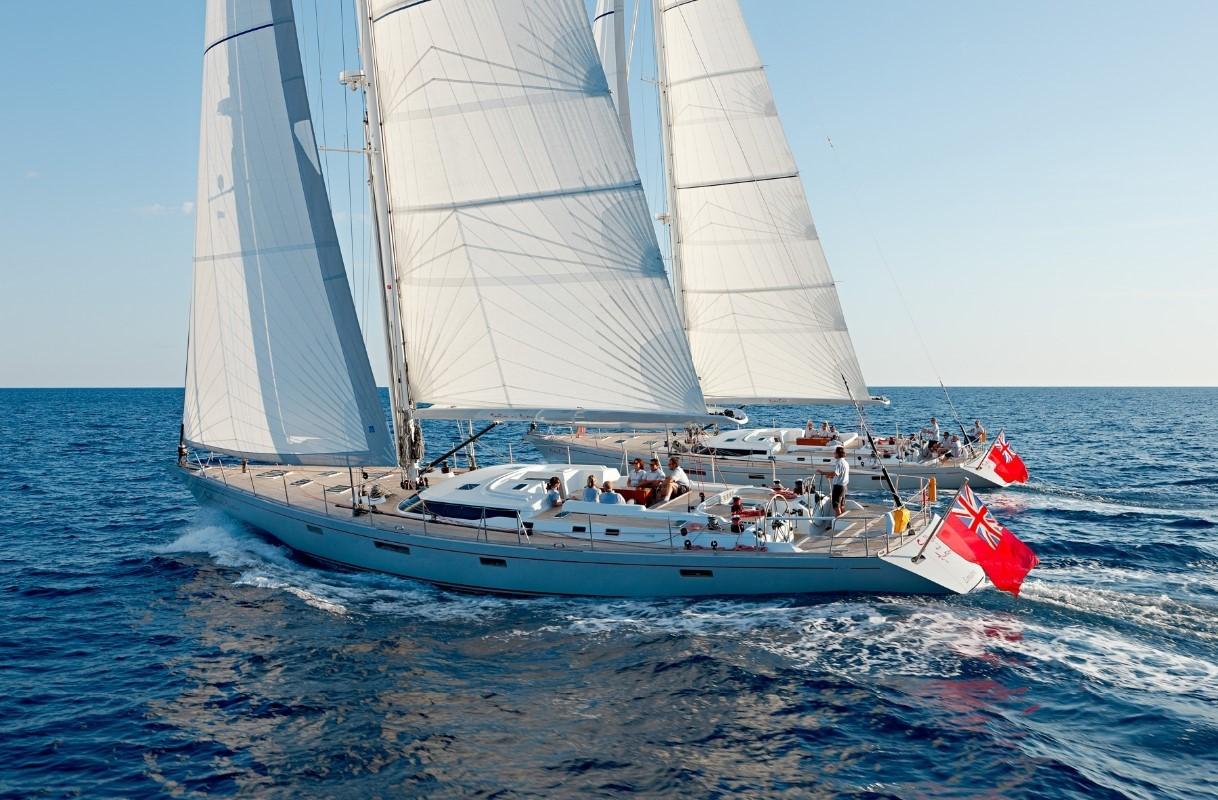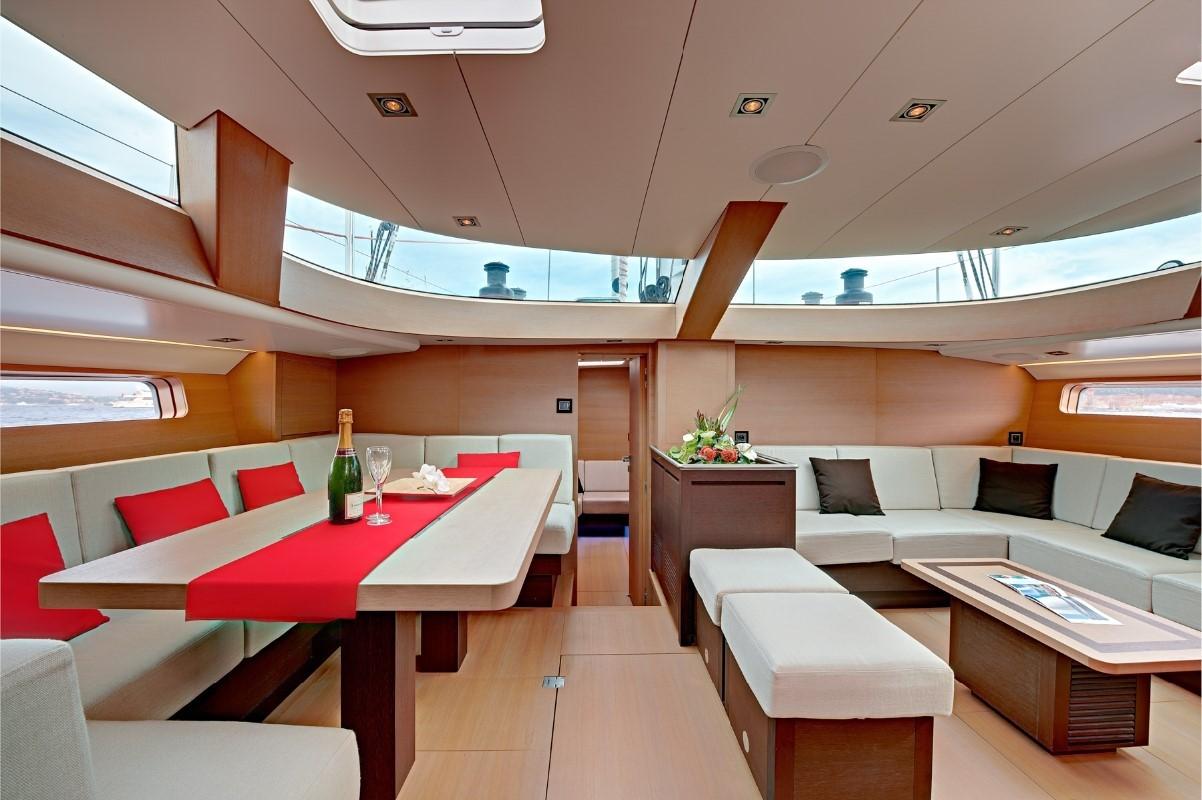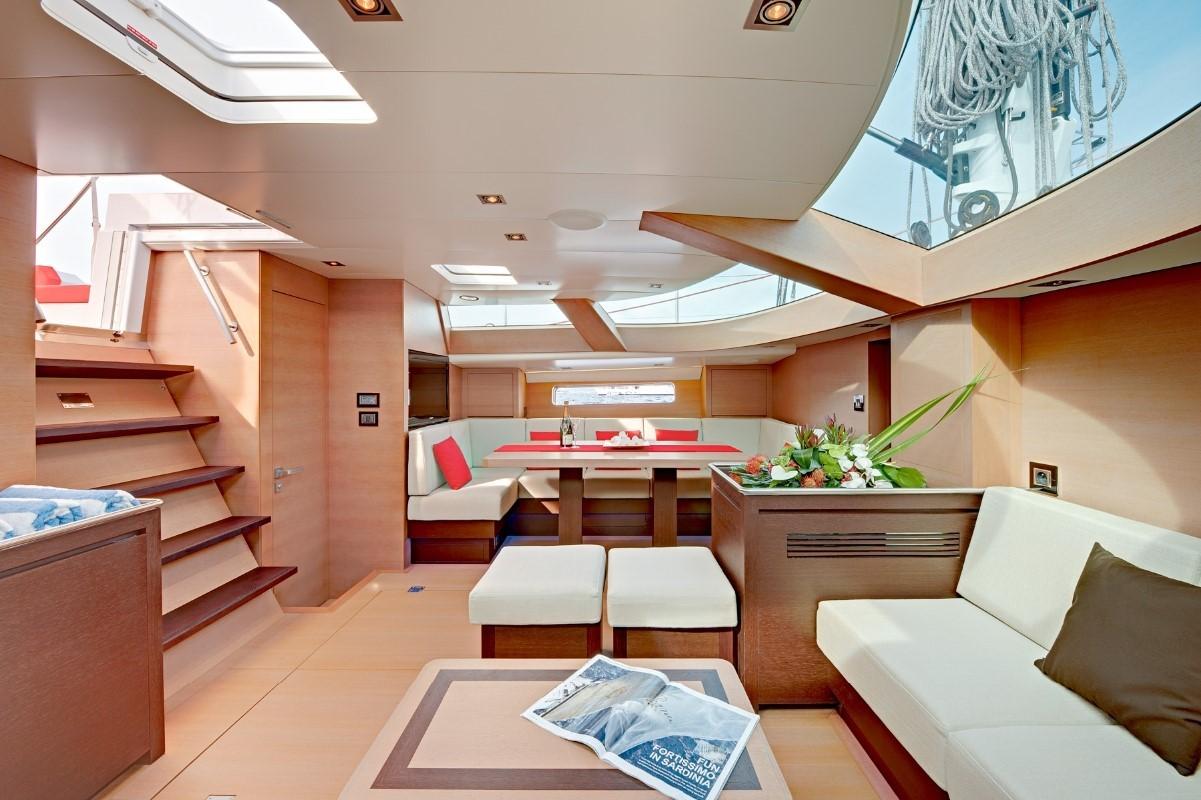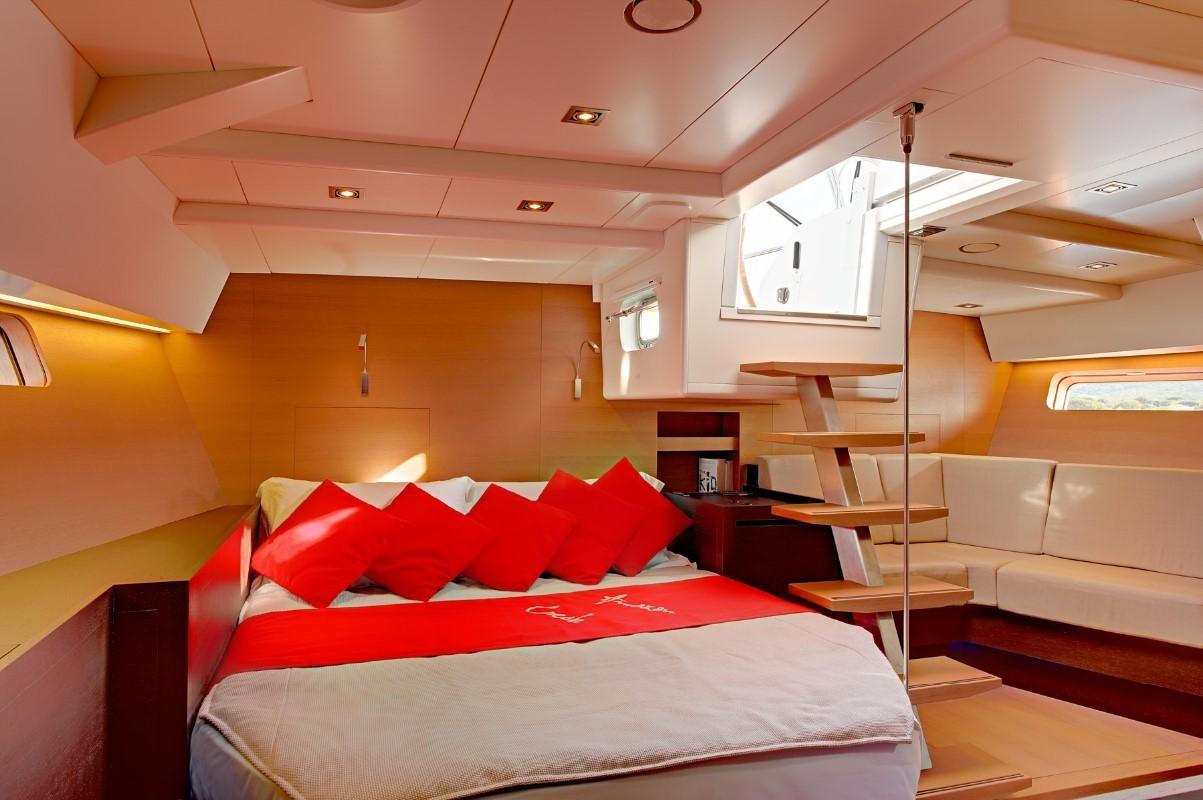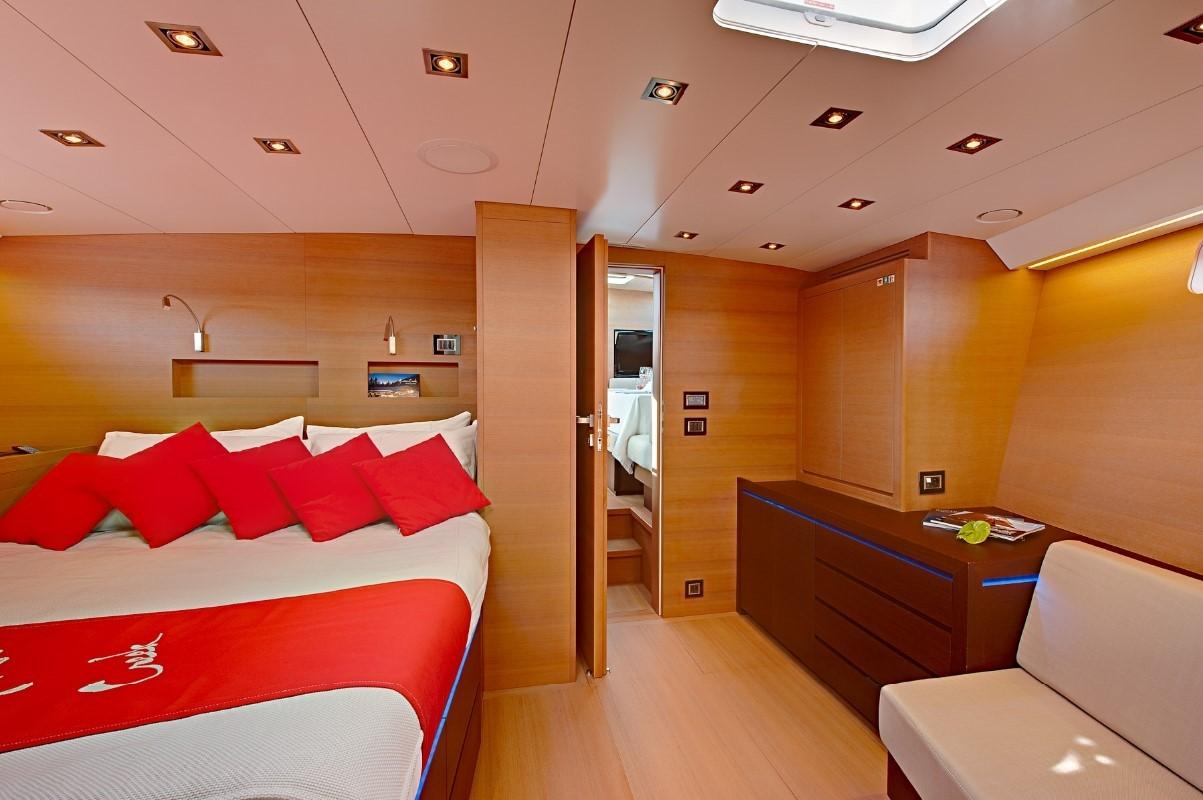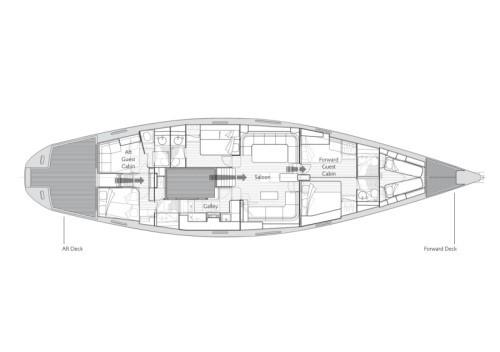 Description
Este fabuloso Velero de 23,16 m cuenta con un gran equipamiento para un confort muy especial y una navegación superada.En la popa tiene una espaciosa cabina de propietario con un baño privado, un escritorio y sofá, en proa tiene otra cabina VIP espaciosa con baño privado y la cabina de tripulación con su baño privado se encuentra en popa babor. En el pique de proa tiene otra cabina de tripulación o espacio para almacenaje. El salón cuenta con un comedor para 8 personas. ----------------------------------------------------------------------------------------------------------------------------------- This fabulous Sailingboat of 23.16 m has a great equipment for a very special comfort on board and an exceeded navigation.In the stern has a spacious owner cabin with a ensuite bathroom, a desk and sofa, in the bow it has another spacious VIP cabin with ensuite bathroom and the crew cabin with its ensuite bathroom is in port side aft. In the forepeak it has another crew cabin or storage space. The living room has a dining room for 8 people.
L.O.A: 75.98 ft (23.16 m)
Beam: 19.78 ft (6.03 m)
Max Draft: 8.86 ft (2.70 m)
Engines: 1
Engine Make: CUMMINS
Engine Year: 2010
Engine Fuel Type: diesel
Engine Propeller Type: Inboard
Descripción proporcionada por fabricante

No description
Specifications

Dimensions
L.O.A: 76.57 ft (23.47 m)
Beam: 19.82 ft (6.04 m)
Max Draft: 8.86 ft (2.70 m)
Displacement: 47.24 tons (48.00 tonnes)
Propulsion
Engines: 1
Engine Make: CUMMINS
Engine Model: 6BT 180CV à 2500 tours
Engine Year: 2010

Main equipment
Generator: ONAN 1 X 17.5 KW - 220V - 50HZ
Engine room vent.: HELIOS 2000 M3 per hour type RADAX
Batteries: SONNENSCHEIN Dryfit type - 1000 Amps per hour / 24V
Battery charger: MASTERVOLT 2 X 100 AMPS per hour
Inverter: MASTERVOLT 24 / 220V -1 X 5000 W
Propeller: GORI 3 blades auto- feathering
Bow thruster: MAX POWER 16 HP - retractable
Steering: JP3 rudder bearings - Chain/cable system
Mast: HALL SPARS Carbone - 3 spreaders
Rigging: NAVTEC Rod – 3 hydraulic rams
Running rigging: MAFIOLI Spectra - Tergal
Genoa furler: BAMAR Electric - 24V
Staysail furler: BAMAR Electric - 24V
Deck hardware: HARKEN 5 electric & 4 manual Winches
Hardware Harken
Anchoring: LOFRANS horiz. windlass type "TITAN A" 24V
100 meters 14 mm chain 2 X CQR anchors - 77 lbs/ 35 kg galvanised
Safety: ZODIAC 2 x container 6 persons class II (plus
safety equipment to the standards and regulation of the yacht's country of registry)
Fire fighting: Engine room fire extinguishing by inert gas
system
Water heater: PACIFIC Electric water heater - 100 L
Air conditioning: FRIGOMAR 65,000 BTU
Toilet system: TECMA 3 Electric ref. SILENT
Entertaimment
Cabins: BOSE Radio-CD with 2 HP
Main salon: SONY HI-FI stereo - FHB 55 CD
HITACHI Multi standard VCR (NTSC, PAL, SECAM) GRUNDIG Multi standard
TV set (14") 2 HP in salon and cockpit
Crew quarter: KENWOOD Radio-CD WITH 2 HP
Galley equipment
Stove & gas oven: ROSIERE 4 burners & gas oven
Microwave: PHILIPS Multi-function
Ventilation: G&R 1000 M3 per hour
Refrigeration: FRIGOMAR 400 l / 106 US gal.
Freezer: FRIGOMAR 350 l / 92 US gal.
Frigo-bar: WAECO On main salon
Accommodations
1 main salon with dining area for 8 guests
1 port crew cabin double bed convertible twin bed with en suite bathroom
1 aft owner cabin double bed, desk, sofa with en suite bathroom
1 forward VIP cabin, double bed, sofa with ensuite bathroom
fore peak: one pipe berth and various storage
Deck
Teak deck
Central cockpit with table for 8 passengers
Aft steering position & aft helm cockpit for manoevers
Sunbathing area with cushions
Bathing platform
Dodger
Options
MCA cat 2, required equipment
ITC tonnage certificate
Custom interior design
Dimmer to salon main sets of lights
Valli&Valli door handles (7)
Two spare sets of toilet brushes and holder
Caribe Avantage 400 tender with yamaha 50 CV 2 strock and wheel console
Bow thruster MAXPOWER HYDRAULIQUE
Air conditionning upgrade from 48000 BTU to 72000 BTU
Work bench in engine room
Inverter 5000 W instead of 2500 W
Extra battery charger 100 Ah
LED navigation lights instead of DHR with filament bulbs
Professional dish washer MIELLE
Ice maker
2 biminis
Cockpit courtesy waterproof LED lights
Cockpit table cover
Life raft cover
Foldable swimming ladder
Hydraulic aft swiming plateform
2 Rondal flush hatches on the roof
2 seats with teak gratting in pushpit
Main sail sheet electric winch 3 speeds
Boom length and main sail surface increase
Hallspars carbone mast with rod rigging
Harken switchable battcar system for main sail track
Top of spreaders LED lights (3 sets of spreaders)
Petitjean T700 carbone canoe boom
Carbon fiber spinnaker pool with storage in front of the mast
Backstay hydraulic rams safety locks
Main sail hydraulic outhaul
Automatic reefing system
In boom preventer
Spectra main sail, genoa and staysail
Asymetrical spinnaker 390m2
Spinnaker soc
Electric staysail furler 24 V with halyard hydraulic ram
Extra spinnaker halyard
Extra staysail halyard
Electronic
GPS antenna differential, and antenna switch AIS 250
Man over board system
Autopilot pack SPX 303G
Color auto pilot ST70 control case
Smart control
Maxi Color screen ST70
3 color repeaters ST70
Sensor depth sounder/speedometer/temp
Mast head ST70 sensor
Radar 4kw radome Ethernet
C-MAP PRO software with charts
Charts C-MAP PRO Mediterranean sea
Computer screen 17"
Exterior monitor system 12'' HATTELAND
VHF Simplex ASN GMDSS (class D) - 25 W
Second watertight station with H.P.
VHF 3db MAT/JAYBEAM antenna with 35m cable and joint
1 portable VHF GMDSS IP 67- 2 W - 16 channels, battery charger 12-24 Vcc and lithium battery
Inmarsat MINI C no GMDSS with marine antenna GPS integrated
Set BLU ICOM ICM-801 150 W - 24 VCC - with ASN integrated, transceiver 150 W with 1 channel ASN
Antenna coupler (ATU)
EPIRB 406 Mhz with hydrostatic dropping system
Transpondeur radar SART II 9 GHz - Wheel Mark
Equipamiento

Dimensiones

L.O.A: 76.57 pies (23.47 m)
Manga: 19.82 pies (6.04 m)
Calado máximo: 8.86 pies (2.70 m)
Desplazamiento: 47.24 toneladas (48.00 toneladas)

Propulsión

Motores: 1
Marca del motor: CUMMINS
Modelo del motor: 6BT 180CV à 2500 tours
Año del motor: 2010


Equipo principal

Generador: ONAN 1 X 17.5 KW - 220V - 50HZ
Ventilación de la sala de máquinas: HELIOS 2000 M3 por hora tipo RADAX
Baterías: SONNENSCHEIN tipo Dryfit - 1000 Amperios por hora / 24V
Cargador de batería: MASTERVOLT 2 X 100 AMPS por hora
Inversor: MASTERVOLT 24 / 220V -1 X 5000 W
Hélice: plumaje automático de 3 palas GORI
Hélice de proa: MAX POWER 16 HP - retráctil
Dirección: cojinetes de timón JP3 - Sistema de cadena / cable
Mástil: HALL SPARS Carbone - 3 spreaders
Aparejo: NAVTEC Rod - 3 carneros hidráulicos
Aparejo: MAFIOLI Spectra - Tergal
Enrollador de Génova: BAMAR Electric - 24V
Enrollador Staysail: BAMAR Electric - 24V
Herraje de cubierta: HARKEN 5 Winches eléctricos y 4 manuales
Hardware Harken
Anclaje: LOFRANS horiz. molinete tipo "TITAN A" 24V
Cadena de 100 metros y 14 mm Anclas 2 X CQR - 77 lbs / 35 kg galvanizado
Seguridad: ZODIAC 2 x contenedor 6 personas clase II (más
equipo de seguridad según las normas y regulaciones del país de registro del yate)
Lucha contra incendios: extinción de incendios en sala de máquinas por gas inerte
sistema
Calentador de agua: PACIFIC Calentador de agua eléctrico - 100 L
Aire acondicionado: FRIGOMAR 65,000 BTU
Sistema de inodoro: TECMA 3 Electric ref. SILENCIO

Entretenimiento

Cabinas: BOSE Radio-CD con 2 HP
Salón principal: estéreo SONY HI-FI - CD FHB 55
HITACHI Multi estándar VCR (NTSC, PAL, SECAM) GRUNDIG Multi estándar
Televisor (14 ") 2 HP en salón y cabina
Cuarto de la tripulación: KENWOOD Radio-CD CON 2 HP

Equipamiento de cocina

Estufa y horno de gas: ROSIERE 4 quemadores y horno de gas
Microondas: PHILIPS multifunción
Ventilación: G&R 1000 M3 por hora
Refrigeración: FRIGOMAR 400 l / 106 US gal.
Congelador: FRIGOMAR 350 l / 92 US gal.
Frigo-bar: WAECO en el salón principal

Cabinas

1 salón principal con comedor para 8 personas.
1 puerto tripulación cabina cama doble cama doble convertible con baño en suite
1 cabina de popa con cama de matrimonio, escritorio, sofá con baño en suite
1 cabina VIP delantera, cama doble, sofá con baño privado
pico proa: una litera y varios almacenamientos

Cubierta

Cubierta de teca
Cabina central con mesa para 8 pasajeros.
Posición de dirección en popa y cabina de timón en popa para maniobras
Área para tomar el sol con cojines
Plataforma de baño
Gandul

Opciones

MCA cat 2, equipo requerido
Certificado de tonelaje del ITC
Diseño interior personalizado
Atenuador para los principales juegos de luces del salón
Tiradores de puerta de Valli y Valli (7)
Dos juegos de escobillas y soporte de repuesto.
Oferta del Caribe Avantage 400 con strock yamaha 50 CV 2 y consola de ruedas
Hélice de proa MAXPOWER HYDRAULIQUE
Actualización de aire acondicionado de 48000 BTU a 72000 BTU
Banco de trabajo en sala de máquinas
Inversor 5000 W en lugar de 2500 W
Cargador de batería extra 100 Ah
Luces de navegación LED en lugar de DHR con bombillas de filamento
Lavavajillas profesional MIELLE
Maquina de hielo
2 biminis
Cabina de cortesía con luces LED impermeables
Cubierta de la mesa de la cabina
Cubierta de la balsa salvavidas
Escalera de baño plegable
Plataforma de baño hidraulica de popa
2 escotillas a ras de Rondal en el techo
2 asientos con teca gratificante en la cabina
Vela principal cabrestante eléctrico 3 velocidades
La longitud de la pluma y la superficie de la vela principal aumentan
Mástil de carbones Hallspars con varilla
Sistema Harken Battcar conmutable para pista de vela principal
Parte superior de los separadores Luces LED (3 juegos de separadores)
Pluma de canoa de carbono Petitjean T700
Piscina de spinnaker de fibra de carbono con almacenamiento frente al mástil
Cerraduras de seguridad de carneros hidráulicos
Salida hidráulica de la vela principal
Sistema de arrecife automático
En prevención de auge
Spectra vela principal, génova y vela mayor
Spinnaker asimétrico 390m2
Spinnaker soc
Enrollador eléctrico para velas de 24 V con pistón hidráulico de driza
Driza spinnaker extra
Driza de vela extra

Electrónico

Diferencial de antena GPS y conmutador de antena AIS 250
Sistema de hombre al agua
Pack piloto automático SPX 303G
Caja de control de color de piloto automático ST70
Control inteligente
Pantalla Maxi Color ST70
3 repetidores de color ST70
Sonda de profundidad del sensor / velocímetro / temperatura
Sensor ST70 del mástil
Radar 4kw radomo Ethernet
Software C-MAP PRO con gráficos
Gráficos C-MAP PRO mar Mediterráneo
Pantalla de computadora de 17 "
Sistema de monitor exterior HATTELAND de 12 ''
VHF Simplex ASN GMDSS (clase D) - 25 W
Segunda estación estanca con H.P.
Antena VHF 3db MAT / JAYBEAM con cable de 35m y junta
1 VHF GMDSS IP portátil 67-2 2 ​​W - 16 canales, cargador de batería 12-24 Vcc y batería de litio
Inmarsat MINI C no GMDSS con antena marina GPS integrado
Conjunto BLU ICOM ICM-801 150 W - 24 VCC - con ASN integrado, transceptor 150 W con 1 canal ASN
Acoplador de antena (ATU)
EPIRB 406 Mhz con hidrostati
EXENCION DE RESPONSABILIDADES

La Empresa presenta la información de esta embarcación de buena fe, sin embargo, no puede garantizar o asegurar la exactitud de dicha información. Tampoco puede garantizar el estado de la embarcación. El comprador debe solicitar a sus agentes representantes o peritos que comprueben dicha información. Esta embarcación se ofrece sujeta a venta preferente, cambio de precio o retiro sin previo aviso.